Are Pain and Injuries...
Keeping You Sidelined?
Get custom, individualized treatments based on YOUR needs, to eliminate YOUR pain.
Call To Schedule
The Sport & Spinal Rehab Approach
Be on your way to healing your injuries and eliminate your pain.
Phase 1: Reduce & Eliminate Pain
Our first priority is to reduce and eliminate your pain. Sport & Spinal Rehab offers a variety of natural pain management treatments.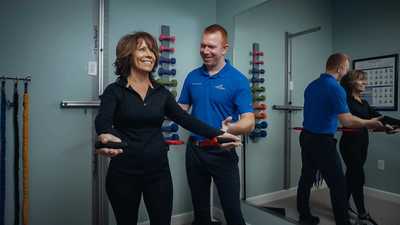 Phase 2: Heal Injuries & Increase Function
Integrated chiropractic care, physical therapy, and other treatments are used to heal your injury and get your body functioning better.
Phase 3: Enhance Athletic Performance
Whether you're a high-level athlete, weekend warrior, or simply want to enjoy an active lifestyle, Sport & Spinal Rehab offers the supportive care to keep you in the game.

Are you wondering if chiropractic care is right for you?

Watch this video to learn about how Sport & Spinal Rehab plays an integral part of a healthy, active life.
Dr. Nevel and Dr. Bullock Understand How Frustrating It Is To Live Each Day In Pain.
They know you want to enjoy life and the things that make life meaningful.
Sport & Spinal Rehab offers the most advanced treatments including chiropractic, physical therapy, spinal decompression, and laser therapy to heal your injuries and eliminate your pain.
The Sport & Spinal Rehab team is passionate about working together to help you get free from pain so you can feel your best.
Call To Schedule
Continue Reading...
Custom, Individualized Treatments Based On YOUR Needs
Our Services Include:
Voted Best of the Best in Palm Beach County
It is an honor to be recognized by our community for our work in providing Palm Beach County with outstanding chiropractic care.
At the end of the day, it's about getting our patient's the best results that we care about most.
Thank you, Palm Beach County for this award. We look forward to serving this special community for years to come.
Sport & Spinal Rehab Treats Both Recreational and Professional Athletes Including:
Getting Starting Is Simple
Step 1: Schedule An Appointment
Phone or email the office and we will book a time around your schedule.
Step 2: Get A Custom Treatment Plan
Receive an individualized chiropractic and therapy plan developed to eliminate your pain and heal your injuries fast.
Step 3: Start Seeing Results
As you feel better and get stronger, get back to doing the things you love again.
Imagine living a pain-free, active lifestyle.
Schedule an appointment with our team and get back to living life to the fullest.
Call to Schedule an Appointment